Motobu Farm wins the 2023 Japan Gift Award [Okinawa Prize]
2023.05.22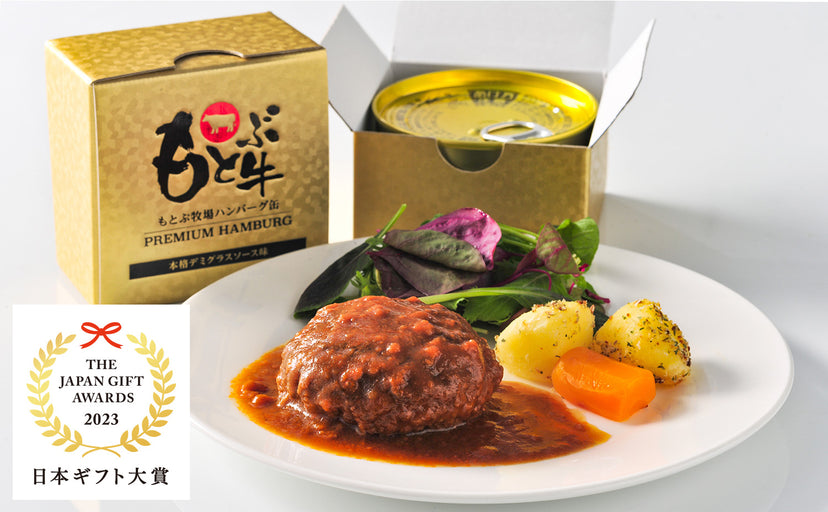 At the Japan Gift Awards 2023, which recognizes attractive and excellent products from among gifts and gifts sold nationwide in Japan, Motobu Ranch's "Hamburger Can PREMIUM Gift" was selected for the [Okinawa Award].
What is the Japan Gift Award?
The Japan Gift Award is an award established with the aim of contributing to the economic and cultural development of Japan gifts, and is a prestigious award selected by the Japan Gift Award Selection Committee (Selection Committee Chairperson: Taeko Nagai).
There are four strict criteria for judging, and the award is given to gifts that meet the criteria of "originality", "creativity", "directability", and "sociality".
Clearing the following four judging criteria to receive the award!
・Uniqueness
 Gifts with differentiated value and uniqueness such as rooted in the region
・ Creativity
Creative gifts that create new gifting habits
・Performance
Gifts that emphasize "things" with an emphasis on storiesSurprise choirs sing songs at weddings, give experience harvesting crops, etc.
・Sociability
Gifts that contribute to and revitalize Japan's gift culture
Award-winning hamburger can PREMIUM gift
The "Motobu Ranch Hamburger Can" that won the Japan Gift Grand Prize this time is a delicious hamburger steak that you can eat anytime, anywhere! It is a product that has been developed as a canned type that can be stored at room temperature from this feeling.
Since it is easy to carry and has a long shelf life of 3 years at room temperature, it is a recommended product not only for gifts, but also for outdoor cooking such as camping and as a preserved food in an emergency.
Please use it as a gift for your loved ones.
Japan Gift Grand Prize winner "Motobu Ranch Hamburger Can" can be purchased from here.