6/5~30, Ryukyu Golden Kings Championship Commemorative Event Held!
2023.06.04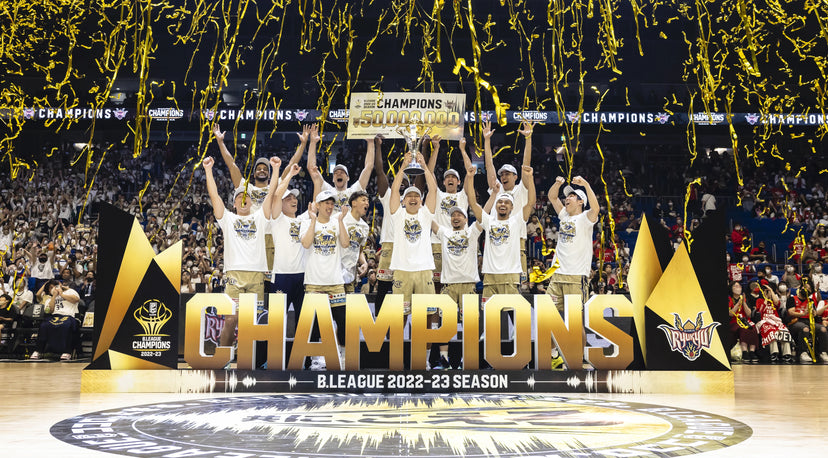 All Yakiniku Motobu Ranch, which serves as an official partner of the Ryukyu Golden Kings, will hold a championship commemorative event to commemorate the Ryukyu Golden Kings' B-League victory.
In their seventh season, the Ryukyu Golden Kings won their first championship.
Winning the B.League title was a "long-cherished wish" not only for the team, but also for the local and Okinawan fans.

Championship Commemorative Event (1) ・Limited Menu

Kings Yakiniku Assortment 3,500 yen (tax included) * Normally equivalent to 5,500 yen
Motobu beef sirloin yakiniku 2,000 yen (tax included)
Orion Draft 300 yen (tax included)
Highball 300 yen (tax included)

* Orders for limited menus can only be ordered by those who present this screen, so please bookmark them!
※ Seats are available for about 90 minutes during busy periods, and we may ask you to contact us.
* Please note that it cannot be used in conjunction with other discounts.
It will be held at all stores (Motobu store, Nago store, Naha store, Kokusai Dori store).
Make a reservation here→
* The contents of the Kings yakiniku platter are daily menus recommended by the head chef, so the contents vary slightly depending on the store.
Championship Commemorative Event (2) ・ Signgoods will be given to 10 people by lottery

During the event period, 10 people who order and take a photo of "Kings Yakiniku Assortment" and post "#キングス優勝おめでとう" and "#もとぶ牧場" on Instagram will be selected by lottery to receive signings of Ryukyu Golden Kings winning members.
■ Application Period
Monday, June 5, 2023~ Friday, June 30, 2022
* Winners will be notified in early ~ mid-July 2023.
■ Gifts and Winners
Golden Kings member autograph T-shirts and other gifts to 10 people!
* The announcement will be replaced by contacting the winners.

■ Qualifications
Those who live in Japan Japan and whose delivery address is Japan in Japan.  
  ■ Announcement of winners
Winners will be selected by a strict lottery from among the submitted works. Winners will be notified via Instagram direct message from the official account. After the winner notification, please contact us with the information necessary for the gift delivery according to the contents of the communication, and the winner will be confirmed.
* Please note that if you do not reply by the date and time stated in the winning notification, your winning rights will be revoked.
  ■ Product shipment
We will ship the product after the winner is confirmed. Please note that shipping may be delayed due to various circumstances.
  ■ Please note
Photos taken by the person himself / herself are eligible. * Entries based on photographs, etc. that infringe on the copyrights of others are invalid.
↓ If it is difficult to visit the store, you can also purchase this ↓